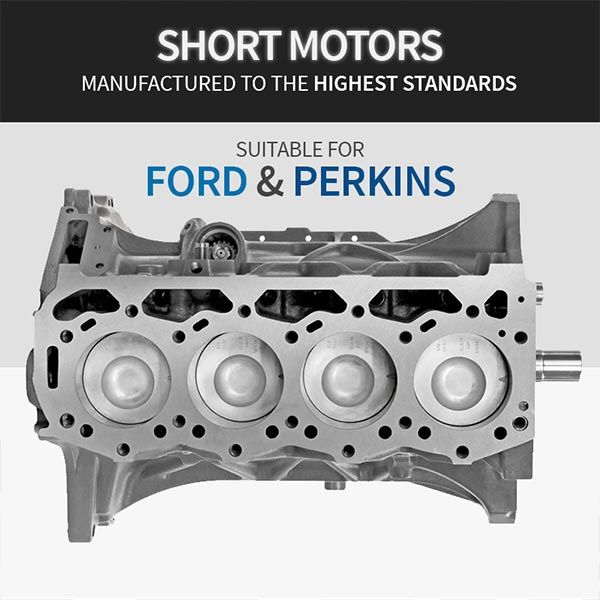 Vapormatic Short Motors - save time and money
Vapormatic's introduction of a select range of short motors has been turning heads and minds. Customers have seen the advantages that these short motors offer and the value gained by removing time and expense associated with engine rebuilding.
Assembled under strict quality control in the UK by engine specialists and incorporating only genuine Vapormatic parts, these shorts motors are supplied as a complete unit including the block, camshaft, crankshaft, piston, liners, rings, bearings and connecting rods, so the end user can be sure that they can get their tractor up and running in no time at all.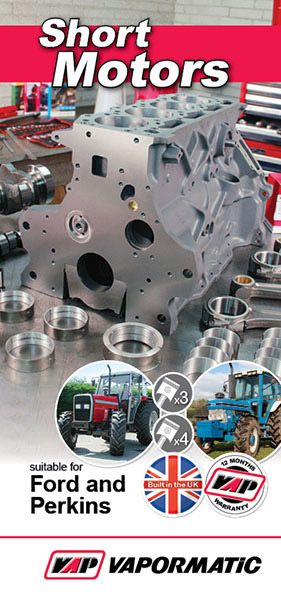 Ford 3 Cylinder
The Ford three cyclinder engine directly replaces the BSD333.
Typically found in Ford 4000, 4600 and 4610 models.
Also suitable for four other models, the BSD326, BSD329, BSD330, and BSD332.
Part No. VPB8024
Perkins 3 and 4 Cylinder
Suitable for the A3.152 rope seal engine.
Typically found in the Massey Ferguson 35, 35X and the Ford Super Dexta
Part No. VPB8017
Suitable for the AD3.152 rope seal engine.
Typically found in the Massey Ferguson 135
Part No. VPB8018
Suitable for the AD3.152lip seal engine.
Typically found in the Massey Ferguson 135, 148, 230, 240, 250, 340, 350 and 550.
Part No. VPB8019
Suitable for the A4.236 lip seal engine.
Typically found in the Massey Ferguson 168, 175, 265, 275, 565, 575, 675, 365 and 375
Part No. VPB8029
Suitable for the A4.248 lip seal engine.
Typically found in Massey Ferguson 178, 185, 188, 285, 290, 590, 690, 390
Part No. VPB8030